Youth running is the most powerful investment for the development of the mind, body, and soul of our future generations.
Throughout its long history, the Foundation's goal has been to promote track and field and distance youth running programs. In this way the Foundation can help make a difference in the lives of the youth. These programs promote physical fitness while fostering discipline, teamwork, and perseverance. Students become athletes. Some student-athletes receive scholarships. Some scholarship athletes go on to coach and work with youth themselves. And even the ones that do not become star athletes, develop skills and attitudes that serve them well in their lives.
Our founders wanted a way to preserve funds into perpetuity and the careful investments have provided income that the Foundation uses to make grants for the purchase of tangible items for youth running programs. Items range from uniforms to trophies to weights to hurdles – things that can assist in the development and growth of the athletes. The grants are not limited to community rec-level programs; grants also support elementary through high school teams. In the last 30 years, The Atlanta Youth Running Foundation has provided over 1 million dollars of grant funds to over 150 organizations.
Why does the Foundation continue? The big grins on the faces of the younger kids as they "warm up" in their team T-shirts. The look of pride when they finish the race. To watch students get to school early to run around the track. To support the relay teams as they cheer each other on. These are all big successes in life and the Foundation wants to be a part of making it happen.
Valerie Howard, President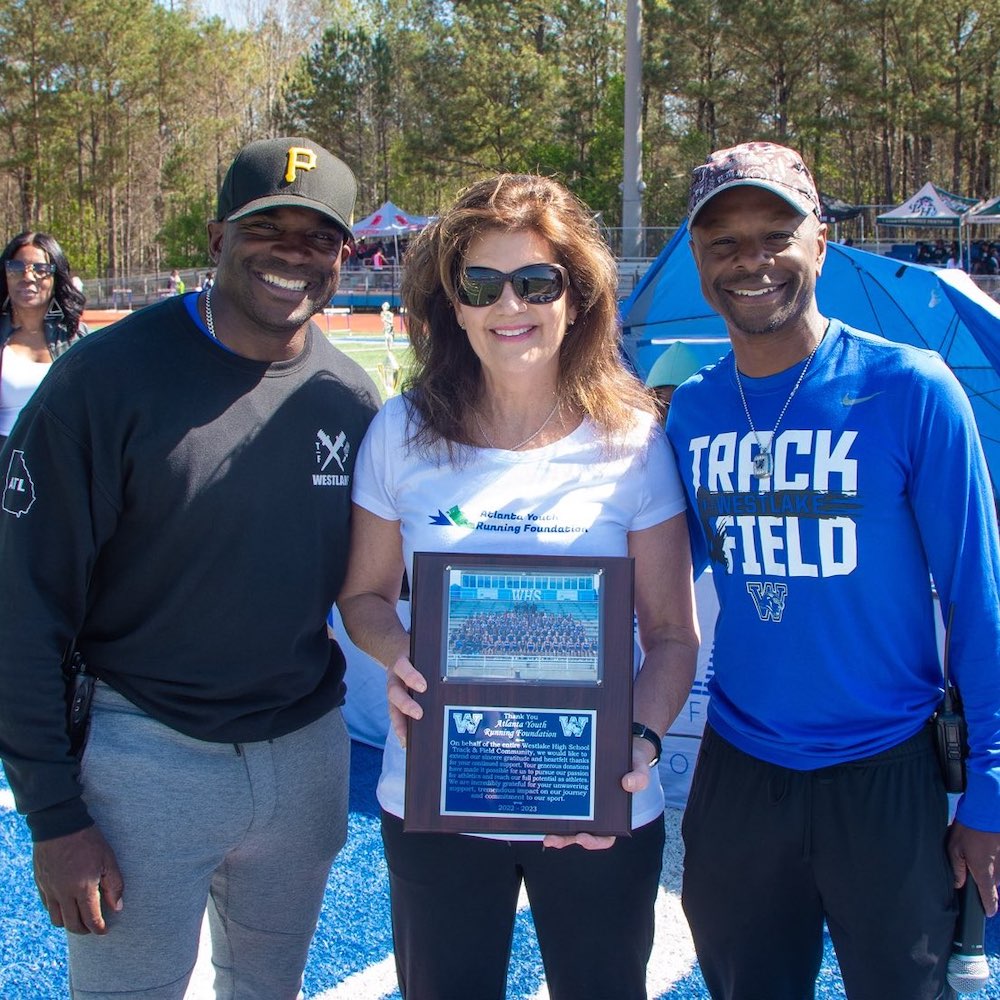 Valerie has been running ever since lacing up her sneakers for youth track meets put on by the Kiwanis Club back in elementary school. Youth running programs weren't around at the time, but if they were Valerie would certainly have taken part. Running always resonated with her, and while attending Georgia Tech she ran her first of what has become 90+ marathons – as well as a local 10K she has now competed in every year since 1981: the Peachtree Road Race.
Valerie never forgot the importance of running to her throughout her childhood and adolescence, and never stopped looking for ways to give something back. Just before the turn of the century, she was involved in the formation of the Fayette Flash cross-country program that was based in Peachtree City. After moving to Senoia in 2002, Valerie laid out a cross-country course on her 40-acre farm known as Tarabithia where, for the next eight years, the Fayette Flash annually held two 'home' cross-country meets. Watching the youngsters run and seeing their smiling faces as they crossed the finish line was one of her favorite things every fall. Valerie also served as President of the Atlanta Track Club for two years. In 2004, she became a board member of the Atlanta Youth Running Foundation (formerly Atlanta Track Club Foundation), where today she is President.  
Valerie is employed by Berkshire Hathaway HomeServices Georgia Properties. She began her career as a newly licensed realtor in 2007, and was recognized as Rookie of the Year after her first 12 months on the job. Valerie earned a degree in Information and Computer Science, where she learned to 'think outside the box' for resolving problems. Before working for Berkshire-Hathaway, she owned a small computer graphics company in Peachtree City for 12 years.
Jack Abbott, Vice President
Jack has served on the Board of Atlanta Youth Running Foundation (formerly Atlanta Track Club Foundation) since 1990. He became President of Lockheed Martin Running Club in the late 1970's, a position he held for 10 years. He served as Race Director of the Lockheed Martin 5K for 25 years, and established a one-mile trail for his fellow Lockheed Martin employees. In November 2006, the trail officially became the Jack Abbott Trail.

Jack served as Course Director for many Chattahoochee Road Runners races for many years. He was President of the Atlanta Track Club Board of Directors in the mid-1990's. Jack is a veteran of the Peachtree Road Race Committee, serving as the Course Director for 21 years. He also served on the Atlanta Marathon Committee as Course Director from 1990 until 2009. Jack has been honored with the Atlanta Track Club's prestigious Clarence May Award (2011) for his service to the community.
Cathy Spruill served as an USATF National level track and field official for 14 years and has been a Master level official since 2017. It has been quite an experience. Rain and snow and sun and heat and cold, indoors and outdoors. Albuquerque to Boston. Bloomington to Lexington. Auburn, UT, UGA, and more, she has dodged discus and hammer, shot and javelin. Cathy has been part of records in pole vault and high jump. There is always sand in her shoes from the horizontals. She has met some fine athletes and has worked with great officials from all over the country. 
One of her favorite experiences is the Atlanta Track Club All-Comers meets, where kids of all ages get to participate in any event. Watching the young kids in the neighborhood clubs try new events and improving each year is incredibly rewarding. She finds it particularly exciting to see some of these same kids competing later at NCAA meets – all grown up and on college teams. Being on the Board of the Atlanta Youth Running Foundation (formerly Atlanta Track Club Foundation) gives Cathy the pleasure and privilege of providing support to the neighborhood clubs – clubs that make track and field possible to the youngsters in the community.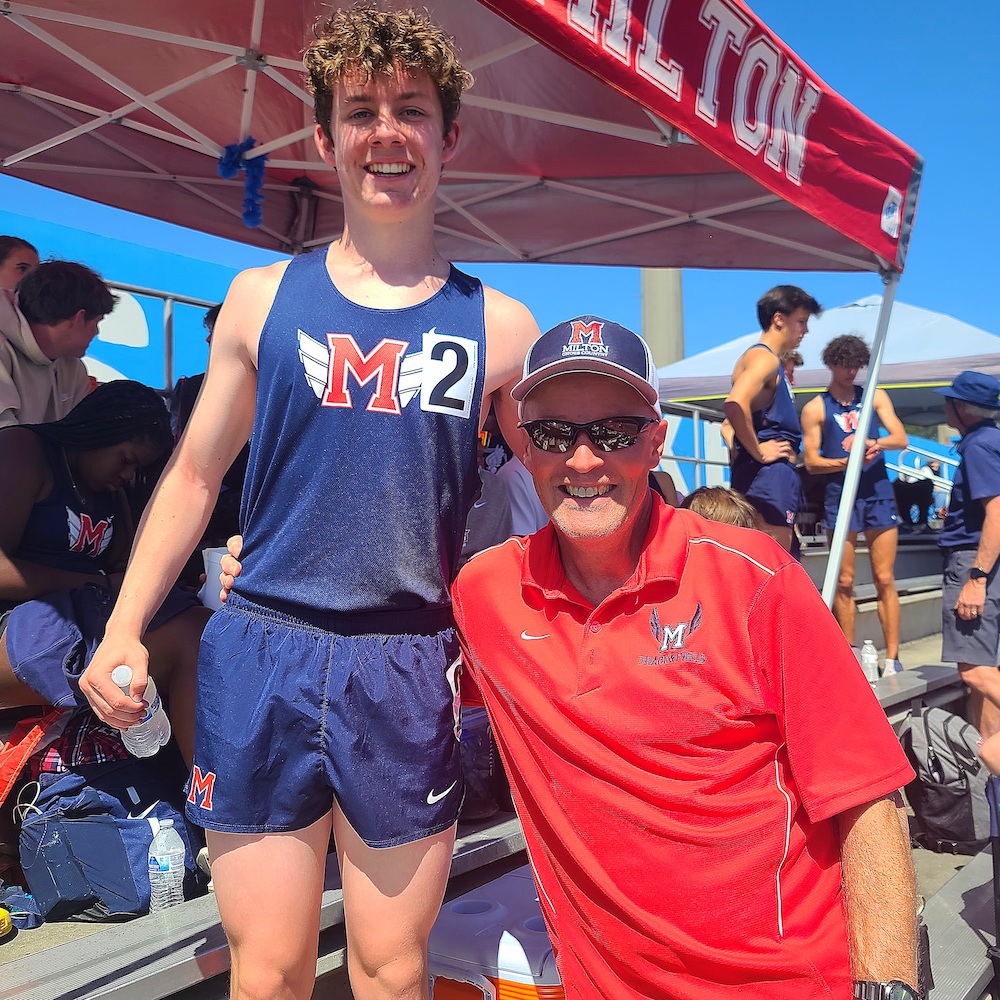 Andy is the Community, Cross Country and Track & Field distance coach at Milton High School in Milton, Georgia. He is also the USA Track & Field (USATF) Long Distance Running Record Keeper, responsible for maintaining USA road and long distance track records. He is an Oregon Duck fan and would rather be watching a cross country race, a sports car race or old sci-fi & horror flicks than doing nothing. Oh, and he always has time for a good and unique beer and a delicious burger!